Some Positives Occurring in this COVID Decimated Aviation Industry
Increased scheduled services for June, good energy for Youth Engagement Committee's first COVID webinar, Transport Canada being extremely responsive on regulatory needs and launches examination of regional services, flight schools moving forward.
While there is still a long, long way to go, there have been many indications that our industry is slowly moving forward again. Several air operators of all sizes announced service increases for June and beyond. While they are generally talked about as flights per week, not day, it is a very welcome sight.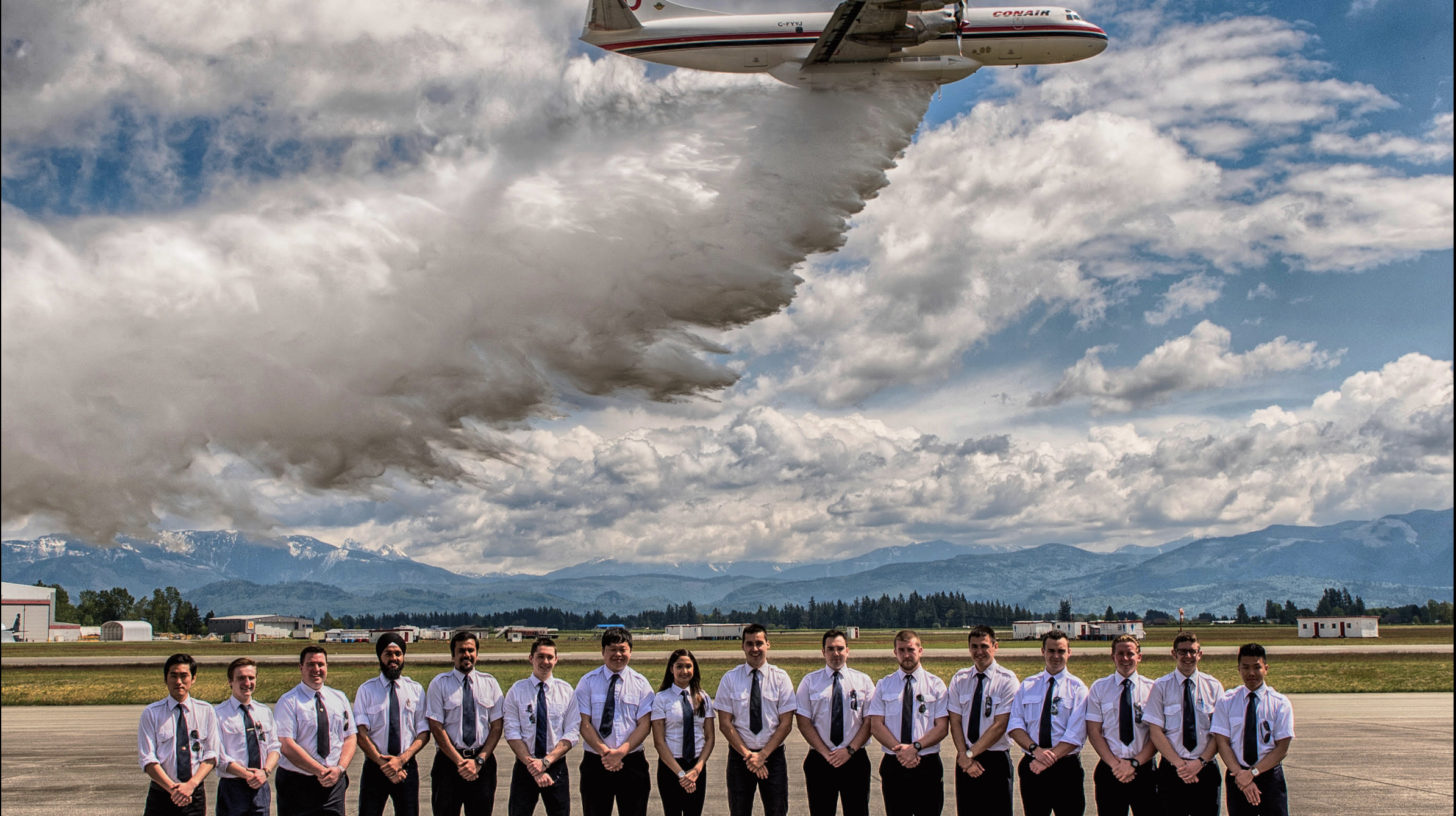 The Council is very concerned about the impact COVID-19 is having on the next generation of aviators. The industry has gone from a desperate need for human resources to massive layoffs in just three months. However, the Youth Engagement Committee is rising to the challenge. Its first webinar was a huge (over 60 participants), energy filled success. TPD Human Resources presented resumé building tips, Jazz discussed what they look for in a (virtual) interview, updates from a number of companies that attended the packed Waypoint Industry Connections night in January, and some future thinking thoughts by our Board Chair, Heather Bell. Our youth are in it for the long haul and it was great to see. The webinar and materials are being posted on our website.
Transport Canada has moved very quickly issuing exemptions to ensure the industry can response effectively and safely to the challenge. They are to be commended for their efforts. It is greatly appreciated. In addition, Transport Canada has launched a review of COVID's impact on "smaller" airports and air operators. This is most welcomed as historically the 26 National Airport System operations and the national airlines have dominated the conversation.
While the 704 fixed wing and Airport Capital Access Program eligible airports (airports with some scheduled passenger traffic but not too much) are the focus, it is hoped that 703 rotary and fixed wing operators, Helijet, the province's flight schools, MROs, emergency air services, forest fire fighting efforts and non-ACAP airports - especially those with flight schools - are included in the review. Aviation is so much more than scheduled passenger service, especially in British Columbia. For example, our helicopter operations have four times more impact on the economy than Ontario's.
One provincial program that can significantly assist our smaller airports is the BC Air Access Program (BCAAP). This program provides a portion of the funding for airport improvements. Problem is, this year nobody has the money for their portion of the project's cost. BCAAP needs to be doubled in size (it has not kept up to airport inflation rates) and used for funding airport operations this year, returning to capital projects with a greater provincial contribution in 2021. This would be an important part of any COVID recovery plan.
Very pleased that the 42 flight training units in BC have been successfully working with officials and are now "fully" back in business. These post-secondary institutions are major exporters of advanced education for the province. What they require to support recovery is enhancement of the BC Student Aid program to reflect the $85,000 cost of obtaining your Commercial Pilot's License, as Alberta does. Currently Students are only eligible for a few thousand dollars in Student Aid. Hopefully more FTUs become members in the BCAC so we can continue to pursue this initiative.

Next COVID-19 Steps By the Council
The Council hopes to work with communities towards the submission of letters to the Federal Government supporting our essential industry. Aviation must recover for communities to recover. The Mayor of Prince George was first out of the blocks on this initiative, His letter is attached.
Of particular concern is the fact that municipal airports are not eligible for the federal government's COVID support program because they are part of a municipality. About three quarters of BCAC's 45 member airports are municipal airports. Without access to the wage subsidy nor the tenant rent support programs, municipal airports are between a rock and a hard place. Municipalities are not allowed to run deficits. This combination of factors could lead to the moth-balling of some BC airports, with dire consequences for the region they serve. 
Almost always overlooked when the aviation and aerospace industry face challenges are the hundreds of small and medium sized businesses that support the industry - from printers to security firms. Several of our industry's ground handlers joined together to ensure their needs are heard by the federal government. Their well thought out ask letter from late April is attached. Some progress has been made on their ask.
Our Executive Director was asked to be part of a BC Economic Development Association  Webinar. This was an opportunity to produce a presentation nased on our ask letters to the provincial and federal governments. A copy of Dave's presentation is attached and the webinar will be posted on the new members' resources section of our website.
Thanks to Gord Duke of the Prince George airport, BCAC will be modifying the BCEDA presentation and submitting it before month's end as part of the BC Budget Consultative Process. Any thoughts regarding this submission are encouraged. In addition, Heather Bell developed a "BCAC's Role Under COVID" document at the request of the BC Ministry of Transportation and Infrastructure and WorkSafeBC. That also is attached and will be posted on our website resources page.
Followup letters to governments are in the process of being drafted, nationwide and provincial conference calls participated in and ongoing Zoom meetings with our air operators, airports and FTUs held.
Upcoming Webinars/Events (yes events) of Interest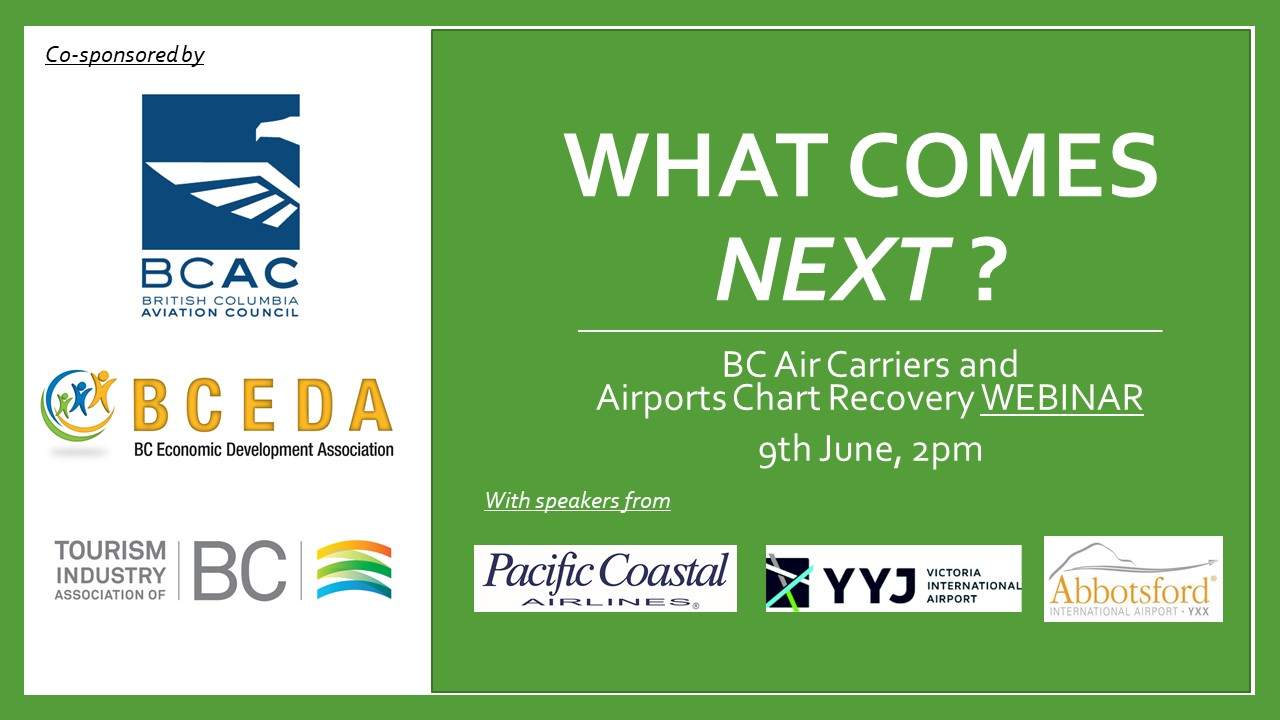 The BC Aviation Council Is Holding a COVID-19 Webinar June 9th, 2:00pm Pacific on "What Comes Next? BC Air Carriers and Airports Chart Recovery". Free registration for members and non-members is through BCAviationCouncil.org events here. Members get priority "seating".
COVID-19 stopped air carriers and airports in their tracks, with aviation business down over 93% in the Province. Travel, tourism and economic development are some of the most virus impacted sectors. In response, air carriers and airports are developing and implementing action plans in real time.
This one-hour webinar allows industry professionals responding to the crisis to discuss their plans and views looking forward.
The webinar is co-hosted by the BC Aviation Council (BCAC), the Tourism Industry Association of BC (TIABC), and the BC Economic Development Association (BCEDA) in recognition of the impact that this crisis is having on aviation, aerospace, tourism, communities, and the economy. We will all need to, and are, working closely together for recovery to be successful. 
Speakers are:
Quentin Smith, President, Pacific Coastal, Airlines (third largest YVR air operator by movements)

Parm Sidhu, Airport General Manager, Abbotsford International Airport

Brant Arnold-Smith, Director, Security and Terminal Operations, Victoria International Airport

Moderator, Rob Beynon, Founder, Operations Economics Inc.

BCAC to Run First Virtual AGM
Join us on June 16th, 3:00pm Pacific, for our first Zoom annual general meeting. Registration is at https://bit.ly/BCAC-AGM-2020. Only open to BCAC Members. We promise this 1:15 long AGM will be one of the most informative and entertaining AGMs you've ever attended!
DRAFT Agenda
Welcoming Remarks - Heather Bell, Chair
2019 Financial Results - Jack Lazareff, Treasurer
Election of Directors - Gregg Rafter, Chair Governance Committee
Steve Michoulas, Partner, McMillan Law

Cathy Press, CEO, Chinook Helicopters

Laura Mortensen, Founder, Curiosity Analysis, Kelowna

 
BCAC's Operational Response to COVID-19: Ensuring our Own Survival - Jack Lazareff/Heather Bell
New Five Year Strategic Plan - Teara Fraser, Vice Chair
Executive Director's Report 2019/2020 - Dave Frank
Hope to "see" you there.
If you have topics for future COVID webinars, contact us at Dave@BCAviationCouncil.org 
If you like the proactive approach the BC Aviation Council is taking tackling COVID-19, support our efforts by becoming a student (free), recent graduate ($20/year), individual ($100/year) or corporate ($500/year) member. Many people and companies are. The Council only exists because of, and for, you.
Silver Wings 2020 and Airports, Aviation, Aerospace Conference 2021
In case you hadn't guessed it, there is a 98% chance this year's Silver Wings Industry and Scholarship Awards Celebration will be postponed until 2021 and/or go virtual.
Save the date: Our Airports, Aviation, Aerospace Spring Conference will be held May 16-18, 2021 at the Laurel Point In in Victoria. The F.O.A.M. conference will immediately follow. The 2021 theme remains the same - reducing our industry's environmental footprint.
Survey for the Day
It is important that our voices are heard. Governments are listening and responding. One way of being heard is active participation in important surveys.
Ending today is the survey on the Canada Emergency Wage Subsidy (CEWS). Please take a few moments to fill it out. In addition to your own needs, please consider adding:
Extending the program length while revenues are still down due to COVID-19;

Expanding the program to make all airports, regardless of ownership structure, eligible for CEWS; and BCAC specific, we need

Expanding the program so contract workers are covered.
Reference Materials:
BC Economic Development Association Resources
Richmond Economic Development Office Resources List
Transport Canada's COVID-19 Measures, Updates and Guidance
Government of Canada Resources Gateway
Provincial Air Services Branch
Join the Listing of Aviation and Aerospace Companies Still Operating (Skies Magazine)
Canada COVID-19 Situational Awareness Dashboard
Johns Hopkins Global COVID-19 Infographic
Selected News:
De Havilland Launches Dash-8 Freighter Conversions
COPA appoints Christine Gervais as president and CEO
Canada to require most airport workers, flight crews to wear masks
Business In Vancouver Video: Tamara Vrooman: Taking on challenges as CEO of YVR
KLM to Start Flying to YVR in July
Abbotsford Airshow launching virtual Aerospace Camp

All good things and be safe.
Attachments
The following files are available for download
Copyright © 2020

British Columbia Aviation Council

, All rights reserved.
 

This email was sent by:
British Columbia Aviation Council
#306 - 8300 Bennett Rd
Richmond, BC, V6Y 1N5

 

You have received this email because you are a member or existing contact of British Columbia Aviation Council, a membership organization powered by SilkStart. update notification preferences unsubscribe from this list